去る7月8日、ここ地域/情報研究室で1日遅れの七夕飾りつけを行いました。
30度を超える暑さの中、100均まで買い出しに行き、いざ願い事を記入。
僕は5月に痛めてしまった爪の回復をお祈りしました。はやく元通りになるといいなあ。読者のみなさんの願いも星に届きますように。
願い事が叶うよう、暑さに負けず研究に励んでいきます!
On July 8, we held a Tanabata decoration event at the Regional Planning and Information Laboratory.
Despite the intense heat, we went shopping to the 100-yen shop and wrote our wishes in strips of paper.
By the way, I prayed for the recovery of my fingernail that I hurt in May. I hope it will be back to normal soon. I hope that the wishes of our readers will also reach the stars☆!
Despite the heat, I will keep working hard on my research so that my wish will come true!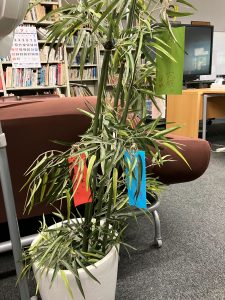 投稿者|嶋野